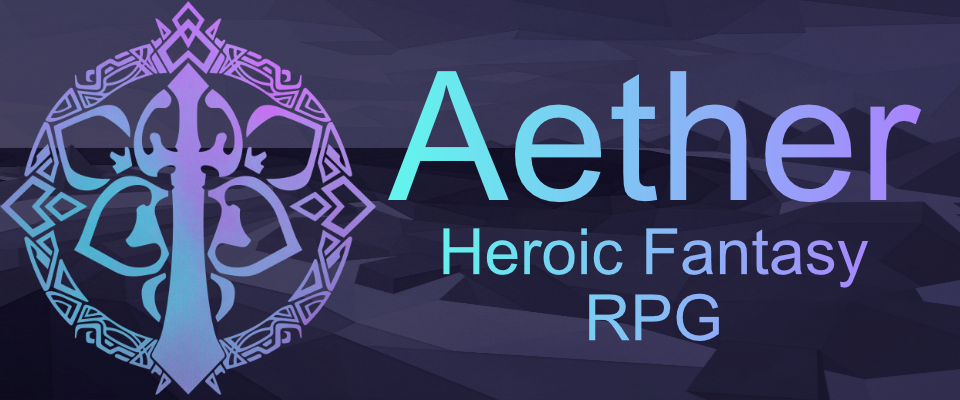 Aether: A Heroic Fantasy RPG
v1.5 Is Finally Here
After some time the 1.5 update for Aether is finally ready! This major update has a few new files and a lot to go over, so let me get through a list of the basics and then the rules changes. With regards to the files and broader changes that have been made you'll find:
Spreads and Pages pdfs for viewing in landscape or portrait mode. Both are completely bookmarked and have hyperlinks in-text.
Brand new layout (done by yours truly).
New 1.5 character sheet to reflect the trimmed down character mechanics.
New Player Cheat Sheet so that new players have an easier time remembering the basics
New Encounter Sheet so that narrators can run entire encounters with one page front and back.
Encounter and Player sheets are form-fillable.
Most of these are quality of life improvements for the game, though there are a number of changes to the rules:
Core resolution is heavily simplified compared to V1.4, now opting for a Failure/Partial Success/Success scale without the math of previous versions.
Rules have been reordered so that they are easier to understand. Game terms come before the core rules so that first time readers don't have to question what things mean.
Character generation has been simplified, combining duplicated mechanics from previous versions (such as Omens and Destinies) into singular streamlined mechanics (Now there's only Omens).
New unified encounter rules, meaning you only need to learn one set of rules to run any kind of encounter.
Improved player ability creator and explanations, with 80 included sample abilities for players to use and change as they see fit.
A trimmed down and improved creature creator, with new statblocks that even separate abilities by turn in combat.
Flow charts for completing a skill check and completing a turn in combat.
Most of these changes seem small on paper, but you'll hopefully find that they create for a much more enjoyable experience in play and during game prep. I hope you all enjoy Aether's latest update!
Files
Aether Core V1.5 Pages- Eldritch Crow Gaming.pdf
7 MB
Nov 01, 2021
Aether Core V1.5 Spreads- Eldritch Crow Gaming.pdf
12 MB
Nov 01, 2021
Aether 1.5 Character Sheet- Portrait Letter.pdf
1 MB
Nov 01, 2021
Aether 1.5 Player Cheat Sheet.pdf
93 kB
Nov 01, 2021
Aether 1.5 Encounter Sheet.pdf
213 kB
Nov 01, 2021
Get Aether: A Heroic Fantasy RPG