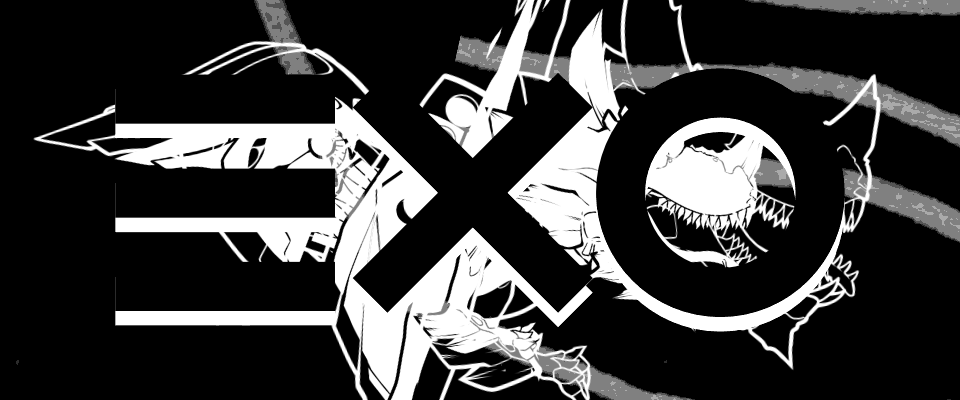 Exo
It's Time To Hunt!
Exo is a card based, GM-less one-shot TTRPG designed to bring the investigation and hunting gameplay of video games like Monster Hunter and Horizon Zero Dawn to the TTRPG space and combine it with the idea of being a badass exosuit pilot. In Exo, players take on the roll of exosuit pilots tasked with hunting a massive kaiju, but they'll have to track it down in the wilderness first!
You'll build your pilot, choose and modify your Exosuit and use the series of random generators and events to craft the biome, habitat and creature that you're hunting. Exo currently has a full creature generator, completely GM-less rules and 8 character classes (exosuits) to mix and match for your preferred style of play.
What You'll Need:
2-5 Players
A standard deck of 52 playing cards per player
The provided Character and Hunter's Log sheets.
This game is Illuminated by LUMEN, based on the LUMEN RPG system designed by Spencer Campbell, Gila RPGs. This game is in no way affiliated with Spencer Campbell or Gila RPGs. This game is also partially Powered by Aether by Eldritch Crow Gaming.

Purchase
In order to download this game you must purchase it at or above the minimum price of $15 USD. You will get access to the following files:
EXO by ECG- Pages.pdf
18 MB
EXO by ECG- Spreads.pdf
19 MB
EXO Play Materials.pdf
37 kB
Exclusive content
Support this game at or above a special price point to receive something exclusive.
Community Copies
Every purchase of Exo goes towards giving anyone who wants to play the game but maybe can't afford it the chance to try it out. Community copies are free, and each purchase adds 1 to the pool so it's like you're buying a copy for a friend!
I also have a Ko-Fi goal set: every $100 that's donated will add 5 copies to the pool, so if you take a copy and feel inclined to give back, but the price is a bit high, you can still contribute and keep things going. If you want to donate you can do so here: https://ko-fi.com/eldritchcrow